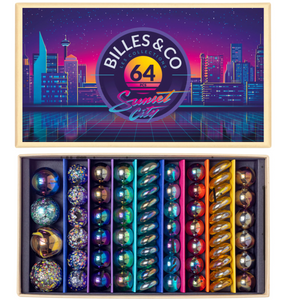 *Please note: It may happen that 1 variety of marbles in the assortment is different, especially when certain marbles are temporarily or permanently unavailable. The marbles will still fit the theme, the harmonies of colors and the number of pieces, to offer you the most beautiful of boxes.*
Set of 64 sparkling marbles, boulders, and pebbles, in the colors of the most beautiful sunsets, against a skyline of skyscrapers.
Age:
Warning! Choking hazard! Not recommended for children under the age of 3!