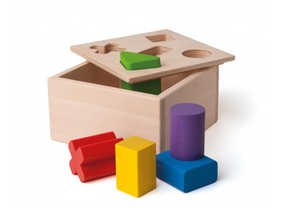 Includes: 1 sorting box with a removable lid, 5 blocks
Discovering and understanding of shapes and colors are a basic element in child development. The appropriately designed toy guides and supports the child. The large geometric shapes are easy to understand and sort into the corresponding opening in the lid of the box. They are designed so that each shape can be inserted only through its own opening. After playing, everything is placed in the box for easy storage.
Age:
Not recommended for children under the age of 1.